This week's Arcade Archives release is quite an obscure game: Nichibutsu's Roller Jammer.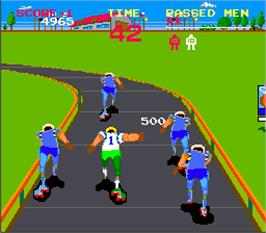 Release date: July 28th
Two announcements for today: first up, let's take a look at this week's Arcade Archives release, Alpine Ski.
Alpine Ski was already featured on the Taito Milestones collection, but very soon it will be available separately. Consequently, all the collection's games will be available as separate Arcade Archives releases.
Release date: August 4th
The second announcement is a bit more interesting: it's the first home release of Toaplan's erotic platformer (yes, you read that right) Pipi & Bibi's.
The game is remastered (but thankfully retains its pixel art graphics, unlike the Snow Bros. remaster) and features some improvements in game design and extra content. It will be launched under the title Spy Bros. (Pipi & Bibi's DX).
Release date: Q4 2022
I wonder if they're going to remove the risqué pics in Pipi & Bibi's?
Good question. I searched online for a bit and eventually found the answer:
On one hand, good, on the other hand, bad.
Yeah, I won't really miss it, but for preservation's sake it would've been nice if it was optional at least.
Two interesting Neo Geo Pocket-related announcements for today!
Firstly, Neo Geo Pocket title Mega Man Battle & Fighters has been shadow dropped on the Nintendo eShop!
Release date: Out now
Secondly, a new Neo Geo Pocket collection has been announced!
A few months ago, a datamine already revealed more Neo Geo Pocket titles could be coming our way.
Those titles were:
Baseball Stars Color
Ganbare Neo Poke-Kun
The King of Fighters: Battle de Paradise
Neo Geo Cup '98 Plus
Pocket Tennis Color
Falselei!
Chances are pretty high that those games will be on the new collection!
Release date: TBA
This is wonderful news. Assuming they'll shove Big Bang and the others on there too!
It looks like I made a mistake when I said Alpine Ski was last week's Arcade Archives release. Apparently, it was Dig Dug. Oh well.
Release date: Last week (sorry)
Fans of vertically scrolling shoot 'em ups have Taito's Gun Frontier to look forward to, as it's this week's Arcade Archives release.
Release date: August 12th
Bought with quickness.
I'm a HUGE supporter of these Arcade Archives (and ACA NeoGeo too)… They're pretty barebones releases, in many regards, but - aside from a couple of minor quibbles with some NeoGeo games - I've always found them solid and well-performing. Gun Frontier as well, seems to run flawlessly on the Switch.
Only interested if it has ET in there. That's a game that changed the world.
Haha, don't count on it. That would be a funny pick, but these kind of retro collections usually don't feature licenced games.
I very much appreciate the dedicated score-chasing mode they include. That's always my favorite feature of Arcade Archives.
Yeah, it's a fun way to keep aiming for higher scores. I've put lots of hours into certain games thanks to that feature.
Namco's Metro-Cross has just been added to the Arcade Archives line-up.
Release date: Out now
I remember encountering Metro-Cross for the first time in a small seaside bar while on holiday in Italy with my parents. I was quite intrigued by the game, but not as much as the arcade cabinet next to it: Ghosts 'n Goblins. Consequently, Capcom's masterpiece took most of my credits, while Metro-Cross was played only a handful of times. Still, I bought the C64 port a year or so later and rather enjoyed it.
Also, and this is rather random, I used to think for a long time that Metro-Cross' protagonist was supposed to be some kind of anthropomorphic dog person. Turns out the "dog snout" was just a really weird chin.
Hype for Metro Cross! only played the Famicom version before.
Love Metro-Cross. Kicking soda cans was just so satisfying.
Criminally difficult though. At least the Atari ST version was that I played.