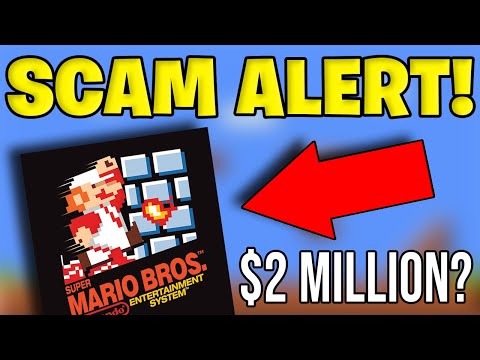 This video is extremely well researched and goes into depth about the explosive pricing bubble we've seen over the past two years as well as the players involved. It also discusses Heritage auction site in depth (the one that recently sold the $1.5m copy of Mario 64 that made headlines) as well as how its founder was responsible for the coin collecting bubble that bursted in the late 80s.
This is why I rarely bid on games now and usually just buy from fellow collectors or fairly priced BIN listings. This practice makes it harder for us who just want to own games to play them on original hardware, even if they're not being sold in new condition.
Basically, rich people involved in auction and grading companies are buying these items at ludicrous prices from each other, and selling them amongst themselves without disclosing their affiliation. The only thing disclosed are the high prices in publicity articles across the internet.
They self-grade very generously which causes the perceived value of the games to vary by six or even seven figures and attempt to resell at higher prices to unsuspecting folks who think that the grading is anything but arbitrary (it isn't) without disclosing their affiliation to these companies.
Then, they also take percentage fees based on the values of the actions from both the buyer and seller from other listings, further giving them incentives to drive up costs across the board even for copies of games they do not own and aren't selling amongst themselves. They also do not disclose how many copies are graded and who is buying them so that no one knows how rare these sealed games actually are.
Now, apparently, shares of games are being sold as securities (LOL) without any genuine value being created, just based on betting as to whether the copies will be sold for higher prices.
I'm sure I'm preaching to the choir here, but please don't get caught up in this sort of thing. If you want to sell your games to take advantage of the higher prices we are seeing now, then you do you. I am not going to criticize you for trying to make some money on your gaming collection. If you have a collection and need or want some extra cash, go ahead, sell those games fairly for as much as you can. No judgment here.
But please do not support grading companies or auction houses by using their services. They're scum and exist solely to profit off those who actually enjoy the hobby. All they do is make it harder for the rest of us. They create a zeitgeist around collecting that has a genuine trickle down effect we can all feel.
Sealed games don't vary in value by hundreds of thousands of dollars based on the quality of the H-Seam. That's pure made up crap.
Let me tell you what I personally think about this by telling you about my copy of Pokemon Red that I acquired in 2016. I refuse to believe those $300-600 CIB copies of Pokemon red/blue (ungraded) are anything but laughable. There were 31 million (!!!) copies of these games circulated. I bought Red CIB in 2016 for 40-60 bucks or so (which I did think was fair). Now it goes for 10x that amount. $600 for an unsealed copy of Pokemon red simply because it has the box and instructions.
It's a mark up that makes no sense for the short amount of time that has passed.
Think about it. It is a one-thousand percent increase in value in 5 years.
1,000%.
Things do not increase in value by one-thousand percent in 5 years. Nothing about the game, its series, or the brand has changed so drastically since 2016 to make the value explode by that much.
A 100% increase of value since 2016 to $120? Sure, I could believe in something like that. But a 1,000% increase over 5 years for a retro game? That just doesn't fly for a copy of a game that simply went from 18 years old to 23 years old. Sure, the pandemic may have some effect here (again, a 100% increase could be reasonable) but I think the real culprit behind a 1000% increase is the fact that WATA has entered the grading scene in 2018. Collecting prior to 2018 vs. after 2018 has been a very different ballgame.
It's Pokemon. It's one of the best selling handheld games of all time. Even complete in box, this game is as common as it gets for Game Boy games.
Same goes for Mario 64, SMB on NES, etc. These are the most common carts available for their respective systems. They're games most retro gamers have picked up for under 20 bucks over the past 2 decades… or maybe for $200-300 sealed at most.
If you ask me, $325 is the upper-end of fairness for a sealed copy of Mario 64 in 2021. Not $1.5 million. That's a manipulated price. It's bananas. It's not what the market is truly willing to pay because a free market didn't drive the price up like that. It's actually appalling to think that so many publications out there just think some guy is just that "passionate" about getting a well-graded copy of Mario 64 and ran the story.
The whole thing just doesn't pass the straight face test.