Pro Rally (GC)
Rally Championship (GC)
WRC Rally Evolved (PS2)
Year: 2005
Developer: Evolution Studios
Region: PAL-only (with a different name only in France)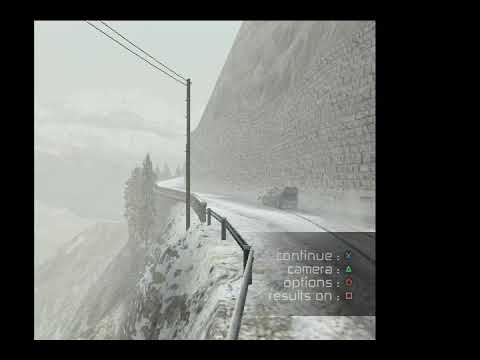 I'm running it in 480p using GSM,which unfortunately gives a narrow game window when recording. Still investigating a way to enlarge/stretch the screen reliably for recording)l
The replay above shows a great early stage (Monaco SS2) and a lot of the stuff this game has going for it.
What struck me compared to other Rally Games I've posted recently is how dynamic this game is. There is a lot going on.
Tons of cars, tons of locales, tons of options.
The scenery is very detailed and varied and whilst some of the effects are "canned", appearing at the same place every time you race that stage, it all feels wonderfully real.
Driving model is solid, with some driving aids that default to on (steering, traction, braking) but will need to be dialled down to hit the challenge mode times.
Damage and dirt model is comprehensive and varied.
Game structure involves a lot of rewards, such as cars and modes, given for winning races. This could be the only fly in the ointment, we'll see.
variable weather: from droplets and streaks across your window to sheets of rain and drifts of snow, dense fog, sun glare, lightning

set pieces: crashed cars, road works, falling rocks, falling trees, storm damage

particles: dust, leaves, snow, rain, dirt, clouds, grass, sparks, birds

roadside: cars, people, buildings, fences, ribbons, trees, bushes, animals, rubble, helicopters, paragliders