I've been looking at replaying Wario Land II at some point soon, which has left me pondering trying out the original Game Boy release which might have been how the game was originally developed considering the Game Boy Color hardware's short development time of 10 months. A development time so short that the original GB version was never released in Japan, only the black cartridge with retroactive compatibility was!
Looking at the visual differences between each game and maybe it's just me, but the original Game Boy version's sprites seem to convey a greater sense of detail with its more limited colour palette: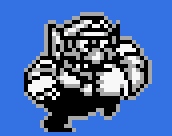 (also note the windows are lacking rounded off ages throughout the entire GBC game)
Source: The differences between the B&W WL2 and the color WL2 | Page 2 | Wario Forums
If the GBC version is played on original Game Boy, the windows lack the rounded edges still. Not sure about the rest of the sprites.
Are there any other games where the use of GBC colour palettes result in less sprite detail, or as I have concluded, looks better?